After around 13 years at St George's, Fr Mike and Lynda have decided to retire. Fr Mike's last service as Vicar of Waterlooville was celebrated on 25 June 2017. He is now on annual leave until the official retirement date of 31 July 2017.
They are moving to Lee-on-the-Solent.
Churchwarden Ann Morgan said, "this is sad news for us all but we are of course enormously grateful for all they have done this past 13 years and we wish them nothing but the best for their well-deserved retirement."
The process to find a new Incumbent has already begun with the PCC approving the Parish Profile and sending it to the Diocese. In the meantime, the Churchwardens are very grateful to retired clergy and neighbouring clergy who are celebrating the two Sunday Eucharists and the Wednesday morning Eucharists. These regular services wll continue to take place during the Interregnum.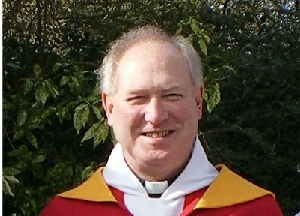 Click HERE for an article by Martin Lloyd about Fr Mike - "A Priest Makes a Difference to his Community".